How to Get to the Bottom of Your Partner's Snappy Behavior
Does this situation sound familiar? You're having a bit of trouble with your boyfriend or girlfriend. Your relationship has been going well, and you've been living together for a significant period.
Lately, your significant other has been getting bad-tempered and acting grouchy around you. When you ask them what's up, they say they're absolutely fine.
Then five minutes later, they'll snarl at you for doing nothing. This behavior seems to repeat itself, and so you've come to Google to find out why and how to fix the problem.
Perhaps you're wondering if they're depressed because they seem really low in between being angry. Maybe you're wondering whether they're bored, but whenever you try to talk to them, they always end up accusing you of harassing them.
They bite your head off, and you never seem to get anywhere. How do you get them to tell you what's really going on and communicate with you in a way that brings you a resolution? Let's talk about it.
​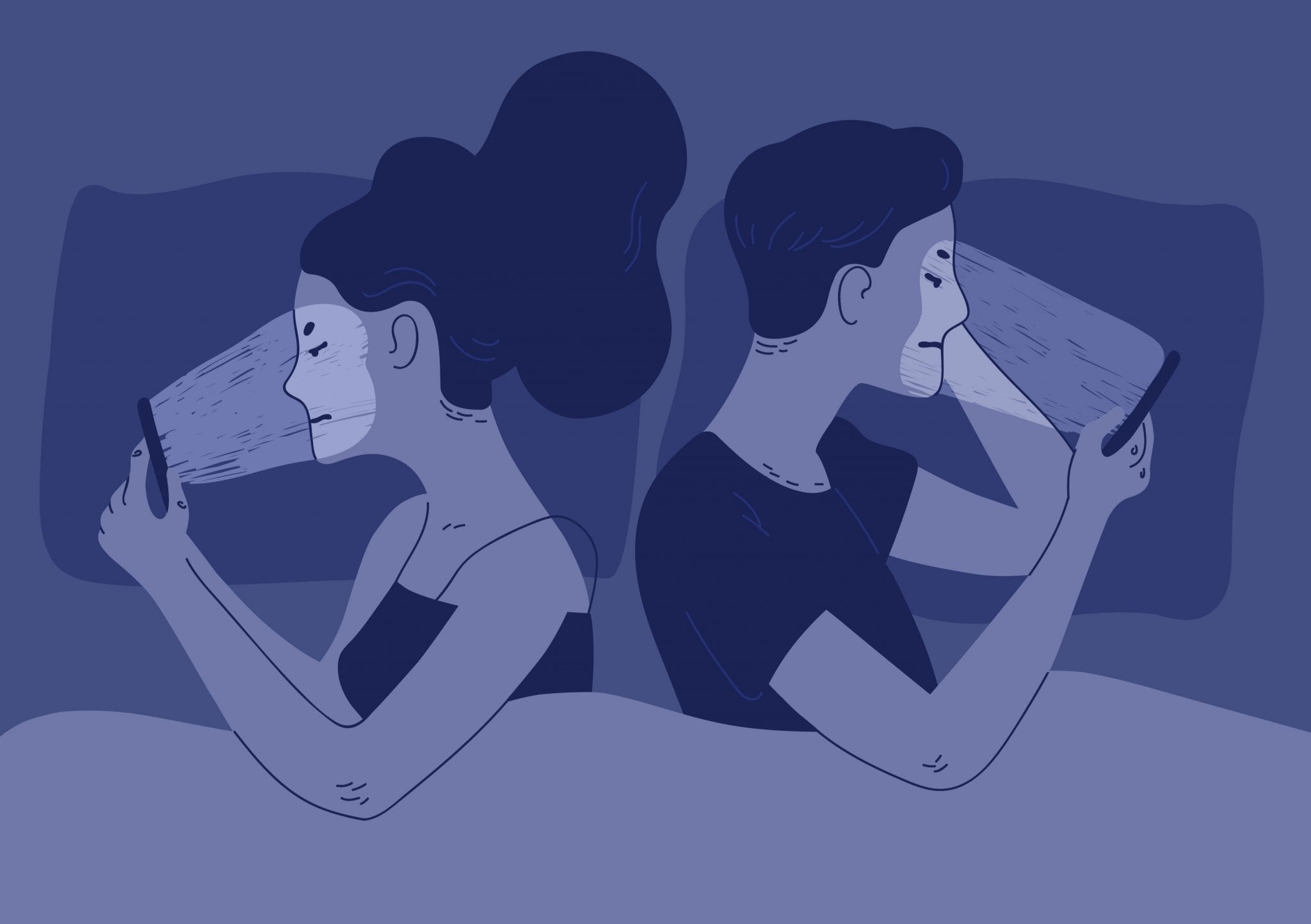 Understand What's Going On
When your boyfriend or girlfriend overreacts or snaps at you, there are three possible causes: the first is that it might have something to do with your actions, the second is that something is going on with them, and the third is that there is something misaligned between the pair of you. This could be external circumstances, such as third-party interference.
Allow yourself to get in a calm space from which you can analyze (as objectively as you can) what the real cause of the problem might be. First, we're going to take a look at how you can check your own behavior, seeing as that's the only thing you can control.
---
When It's You
Very often, the reactions of others reflect what's going on within ourselves. Below we've listed some possible ways that you may be responsible for your communication struggles.
---
You're Lax About Your Words or Tone.
In general, easy to offend someone without ever realizing that you did so. Unless you've scripted what you want to say ahead of time, the words that come into your head may not correctly convey your meaning. It's impossible to say exactly what you mean every time without rehearsal, and expecting otherwise just isn't realistic.
Many times, the words that leave your mouth are like the first draft of a book–they're an approximation of what you actually thought in your head, and would benefit from revision. Even if you're a good communicator and get your point across most of the time, there are always chances to be misunderstood—and to have your dialogue taken the wrong way.
The closer your relationship, the more of an effect your partner's words will have on you and vice versa. So, assuming you are in a close, committed relationship, the way your partner addresses you may be intimately connected to how good and secure you feel about yourself and the bond between you.
Think about how you've been feeling recently when your partner talks to you. It's hard to communicate, isn't it? Now consider that, given the nature of romantic relationships, your partner may be as sensitive to your words as you are to theirs. This mutual reactivity can sometimes cause painful rifts.
---
You've Been Misbehaving.
Have you been rude, abrupt, or dishonest with your partner? Has your behavior caused a rift between the pair of you? Have you been invading their personal space? Be honest with yourself. If this happens to be the case, you know where you can make improvements.
If you're confident that your own behavior has little to do with how your partner is responding to you, and you're wondering what the cause of your partner's bad temper may be, we're going to take a look at some other possible reasons.
---
You're Not Listening to Them.
Sometimes when we're going through our own problems, we don't have the attention span to accommodate the needs of others. It could be that you've been putting yourself first and ignoring your partner's needs to the point where they've given up on trying to reach out to you.
---
You're Behaving in A Way That's Irritating to Them.
Nobody's perfect, and we've all got those little quirks that annoy other people. If you've been behaving inconsiderately or in ways you know would bother other people, then you may have your culprit.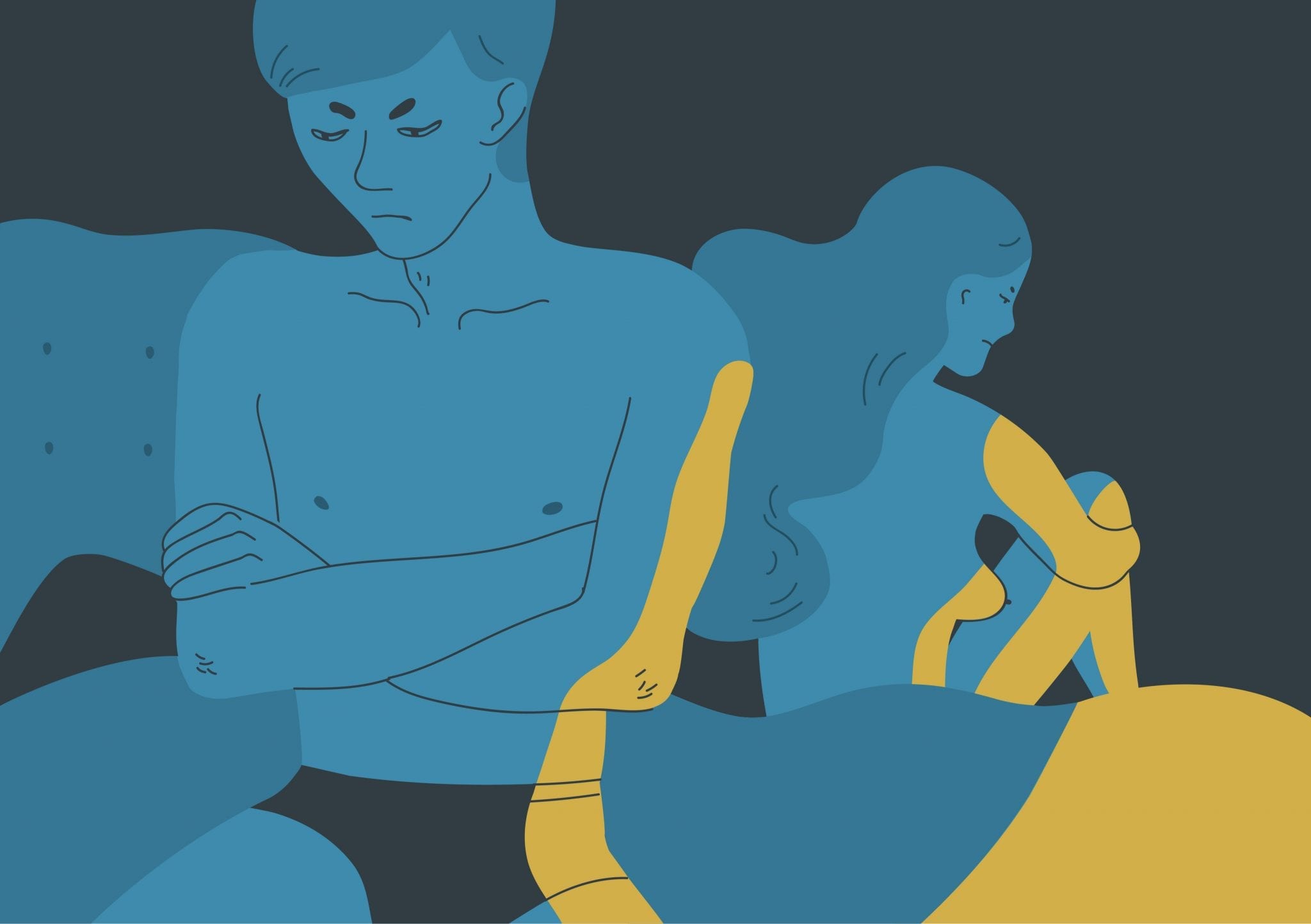 When It's Them
First, just as a quick disclaimer, it's important not to jump to conclusions. You'll need your partner to open up and be honest with you before you can confirm the root cause of their testy behavior. Below we are going to discuss some of the possible reasons for your partner's snappish responses.
---
They Don't Understand You.
Let's first look at the least concerning the possible cause of your partner's snappish moods. There may be a miscommunication between the two of you.
When your loved one shocks you by getting angry over something you said, it's often because of the way they understood it and not what you actually said.
There are many reasons why your partner may misunderstand you. You might have used a word that doesn't mean what you (or they) thought it did. They might have heard a subtext where you didn't intend to add any.
Or they could be upset over something else, and thus in the mood to interpret everything you say as negative, even things that you meant to be neutral or positive. There are as many ways to be misunderstood as there are humans in the world.
For most of us, the relationship with our romantic or life partner is both our most valued and our most unguarded. It is a relationship in which we rely on our partners and open our innermost selves to them, often more deeply than to anyone else.
Even for those of us with a firm, healthy sense of our own worth, we depend on our partners to reconfirm our positive self-image: to remind us that we're smart, attractive, interesting people. We need them to empathize with us and validate our point of view.
Many of us also carry some level of inferiority complex or self-doubt, whether from childhood or other life circumstances. If this is true of your partner, they may naturally be more sensitive.
If they think they're getting criticized or demeaned by you, whether they are or not, they may feel threatened and betrayed and lash out accordingly.
---
They're in Undesirable Circumstances, Hurting, or Grieving.
Another reason why your partner might snap at you is that they are going through undesirable circumstances. This might be depression, anxiety, or problems within their career or family life.
They might have experienced a loss: a family member may have just passed away, or maybe they've been fired from their job. These are all trying issues, which are difficult to handle and put a strain on other areas of our lives. Stress-induced outbursts shouldn't be taken personally.
---
You Struck a Nerve with Them.
They may, without consciously realizing it, be experiencing the need to distance themselves from you—a feat that anger accomplishes all too well. Y
ou may have done something that, however unintentionally, has brought up some bad feelings they have about themselves—feelings they're not yet ready to "own."
In such instances, they may feel the need to "dis-identify" from you for a time, since you're mirroring back to them their own sudden guilt. Defensively, they're compelled to turn on you.
---
They're Dealing with Subconscious or Conscious Incongruities.
Your boyfriend or girlfriend may be living, consciously or subconsciously, in a way that conflicts with their beliefs. For example, they may have issues with you or the relationship that they aren't consciously aware of or aren't being honest about.
This could be anything: relationship uncertainties, unresolved issues from childhood, or it could even mean that they're cheating emotionally or physically.
If this incongruent lifestyle is the root cause of their snappish behavior, then it stems from inner turmoil or guilt about something, and their conscience is screaming for their attention.
---
It's Part of Their Ingrained Behavioral Patterns.
Sometimes you have to take a look at your partner to assess whether snappish behavior is part of their personality. Whether it's triggered by misfortune, tiredness, or frustration, or whether they have an aggressive streak, try to think about how often this behavior occurs and what caused it.
Unfortunately, some people are naturally more aggressive than others, and others have layers of psychological trauma that cause them to behave the way they do.
It could be genetic, behavior learned in past romantic relationships, or it could be a result of how they were raised. Human beings have the capacity to change, but only when it comes from within ourselves.
If our motivation to change stems from trying to please another, our willpower tends not to be strong enough to see the change through.
While you should want to support your significant other, it is not your responsibility to try and fix another person. Therefore, you'll need to assess whether this is really the person you want to continue an intimate relationship with.
You need to set and communicate your boundaries, and if at any time the relationship becomes emotionally or physically abusive, you will need to take a no-tolerance approach.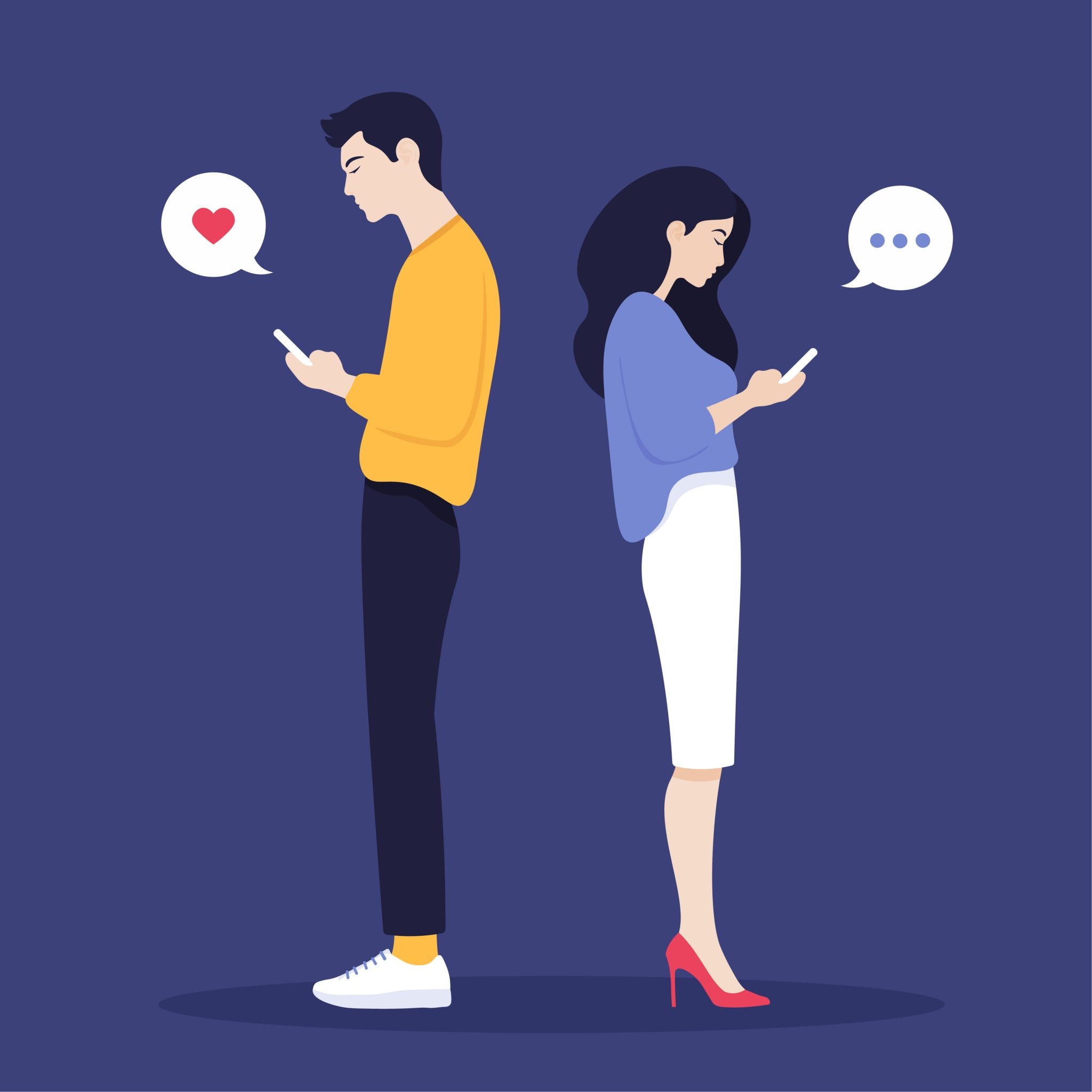 When it's Both of You
It is possible that the problem is too much of a good thing. Arguments are a common side effect of people who spend a lot of time together, and this doesn't mean anything's wrong with the relationship.
If you live with each other in the same house nearly 24-7, you might just need a break from each other—a chance to do different things separately, instead of always as a couple.
On the flip side, it could be the sad reality that you're simply not meant to be together for whatever reason. Neither partner is particularly bad, but together, you aren't a match. It doesn't matter how in love you are if you're both looking for different things.
Everyone's entitled to their own wants, but that doesn't mean they're right for you. It can be heart-breaking, and sometimes it's simply a matter of poor timing, but it's best to recognize and admit your incompatibility before you both get in too deep.
---
Finding A Solution
Working through conflicts together and trying to come to a compromise or solution can be really important when it comes to relationships. However, caring and respecting each other as you work through an issue is just as important as resolving it.
In happy, successful relationships that pass the test of time, roughly two-thirds of conflicts don't even get resolved. That isn't always possible or necessary. The real key to conflict is to keep communicating and caring about each other through it.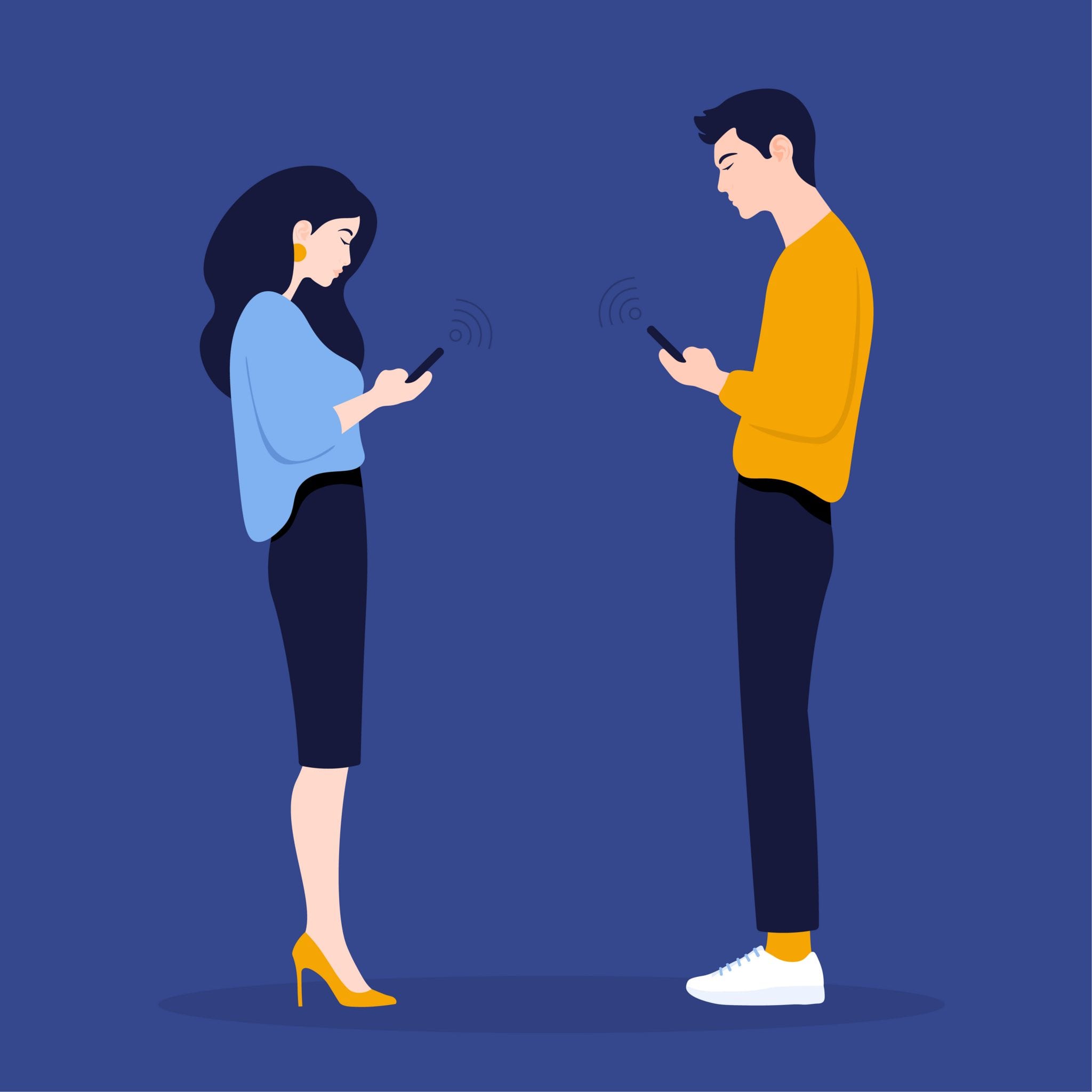 Getting Your Significant Other to Open Up
First, don't panic. Understand that some people have problems, and they tend to ask others to listen in order to let them express their emotions.
Other people don't, and quite often the people closest to them are the ones they are least likely to open up to. Often a stranger is preferred because they are impartial and unlikely to judge.
Intimacy is a large part of a relationship, but for more private people, it can take a while to feel comfortable being frank and sharing the deeper parts of themselves.
If you're someone who is naturally more open, this can be discouraging and hard to understand, but there are ways to respect their boundaries while helping them to share more.
Pressuring a loved one to open up is never a good idea, but it's also reasonable for you to want more heart-to-heart transparency in your relationship. If something is bothering your partner, there's a chance that prying will only annoy them more. Give them space to see what happens.
If you need to speak to them, tell them that they seem down and say that if there's anything you can do to help, they only need to ask. Make sure they know you're there for them, and you're not angry, and leave it at that.
Be direct. Ask plain questions, such as "How do you see us in the future?" This can be nerve-wracking, but it's often the simplest way to get right to the bottom of things. Share your thoughts, worries, and difficulties with your partner.
By showing them your more vulnerable parts, they will grow more comfortable doing the same with you. Over time this will lead to increased trust between the two of you. It can be easy, in this busy world, to take whatever free moment presents itself and put your partner on the spot with an important talk. Resist the urge.
Even if it's challenging, you should always plan ahead and have significant conversations at a time and place where you can both feel secure and comfortable.
By doing this, you are creating a private, one-on-one environment and allowing your partner to view this as a sharing of information rather than a surprise attack.
Be an "active listener". Speak your piece and then give your loved one your full attention while they speak theirs. Don't be in a rush for your turn or jump into any small pause to try and make your point.
Show some interest in what your partner feels and says, and make sure you allow them time to think over their responses and share when they feel ready. If you have past problems relating to the current discussion, don't let those intrude. Focus on what can be done and said right now.
Pay attention to what your body language is saying. Are you sitting in a slouched manner that might look bored or nervous? Try sitting upright and leaning in a bit so you can pay full attention to the discussion.
Keep your voice calm but clear and your volume middling. Don't raise your voice or mumble. Your mannerisms should tell your boyfriend or girlfriend that you're ready to listen and are not going to judge them or brush off whatever they have to share.
Validate your partner's opinions and decisions. This sounds easy, but the truth is most of us don't know how to do it. Validation doesn't mean that you have to always agree. It's about recognizing that they have a right to their own feelings and viewpoint, and accepting that right, whether you agree on a particular point or not.
One good way to do this is to rephrase and repeat their words back to them after they've finished speaking, to be sure that you fully understand. When you do this without judgment, just trying to understand their way of seeing things, you show them that it's safe to open up to you without fear of what you'll think or say.
Be aware of any non-verbal reactions your partner shows. Question them, casually but with empathy. For example, "You've been sort of down after work most days this week. Is something going on?"
If your partner is amenable, you might also consider seeing a therapist. Therapy is often thought of as a last resort, but part of the idea of therapy is to learn how to recognize and express your emotions. If you're already in individual therapy, you could invite your partner to a few sessions, or help them to find a therapist of their own.
If you prefer something longer-term together, seek out a couple's counselor. You don't have to wait until you're ready to break up to do this. Examining yourselves with the help of a good therapist can be very helpful in learning about each other and yourselves.
All this can feel frustrating, but all you can do right now is be patient with your partner and be available when they are ready to talk. Give them some time and some space to sort themselves out, and then when they come out of this rough patch, they'll be extremely grateful to you for being understanding.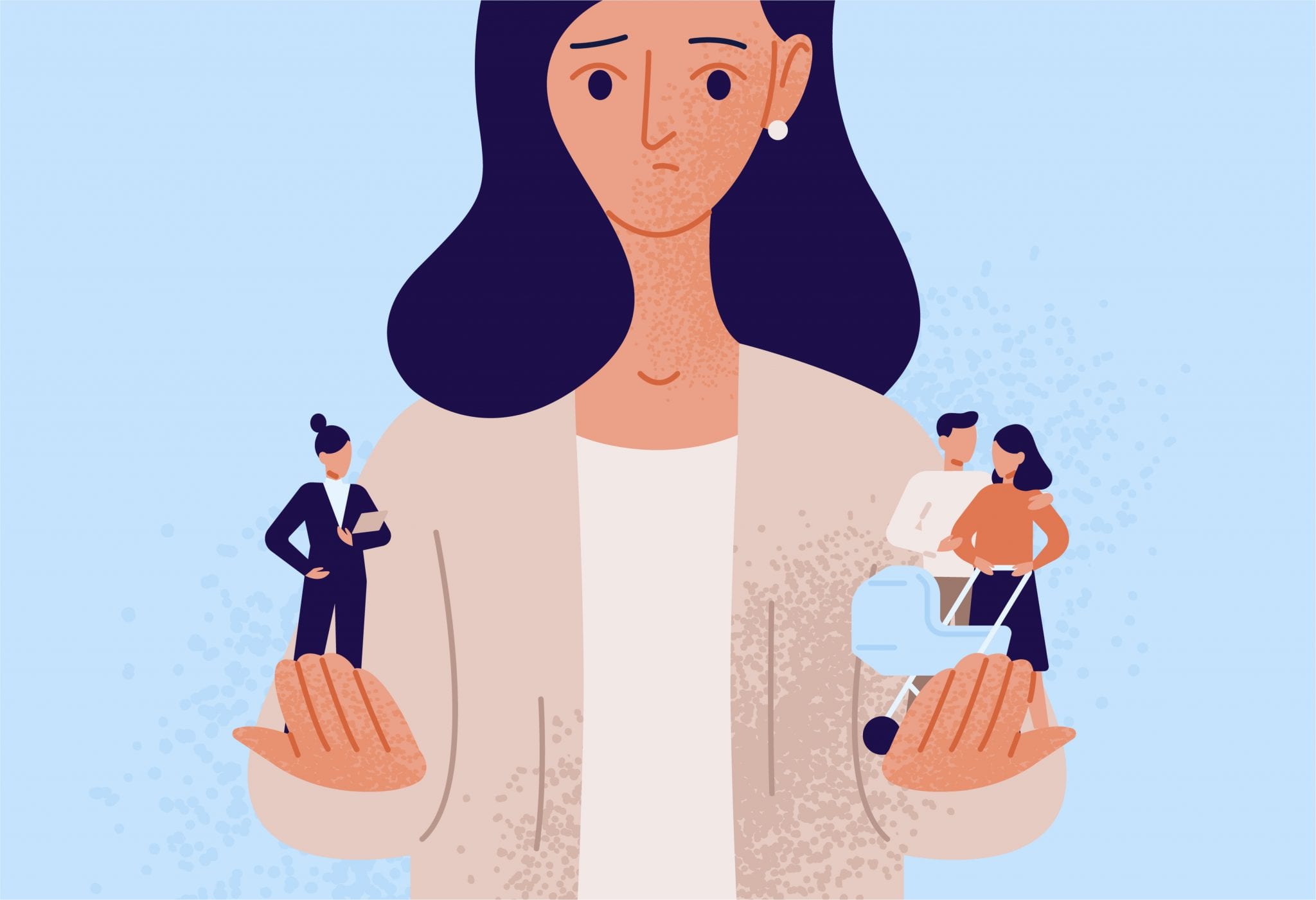 Set Boundaries
Finally, make sure that while you're seeking the answer to your partner's behavior, you also respect your own limits. It's great to want to be there for your significant other, but you should never play the role of the emotional (or physical) punching bag. Setting up boundaries in your relationship is healthy and will allow you both to feel more comfortable and secure.
To do this, you'll need to be clear with your partner about the non-negotiable parts of your life—your core beliefs, values, and limits, and who you are and want to be as a person.
Every relationship requires some give and take, but sometimes we focus so much on being flexible that we forget to look after the important parts of ourselves. Establishing boundaries with your significant other is also a good way to get to know each other better.
Here are some ways to begin.
Tell each other what you think.
Be truthful when communicating your thoughts to your partner, but stay respectful. If you need time to decide how you feel or what you think about something, it's normal and okay to take it, but don't use that as an excuse to put the conversation off.
Don't ever "read between the lines" or assume how your partner feels.
Unfounded assumptions in a relationship are just bad news. You may feel that you know your partner inside and out, but it's never wise or considerate to try and assign feelings to someone without asking them. Even if the subject is a touchy one, always ask rather than assuming.
If you make a statement, follow through on it.
If you set boundaries but don't enforce them, your partner will feel as if those limits don't exist. Think it through very carefully before making an exception to the boundaries you've set. If you do it too often, you may one day end up cornered into doing things that go against the person you want to be.
Take responsibility for whatever you do.
Before you blame your partner for the way you feel or the way a situation turned out, look first at your own choices and actions. Did you contribute to the problem you face now? If so, how can you address it? Remember that a real relationship goes both ways, in good times and in bad.
Know when to say goodbye.
Each of us has the right to be treated with consideration and respect. You can't make yourself responsible for your partner's behavior or communication skills. All you can do is tell them how you expect to be treated and extend the same courtesy to them. If they cannot abide by the boundaries you've set, you should seriously consider ending the relationship.
It takes time and practice to learn how to establish healthy boundaries in a relationship. It may not be easy at first, but if you and your partner work at it together, you'll learn to respect each other more. By doing so you will strengthen your bond and make it easier to communicate and support each other through difficult times.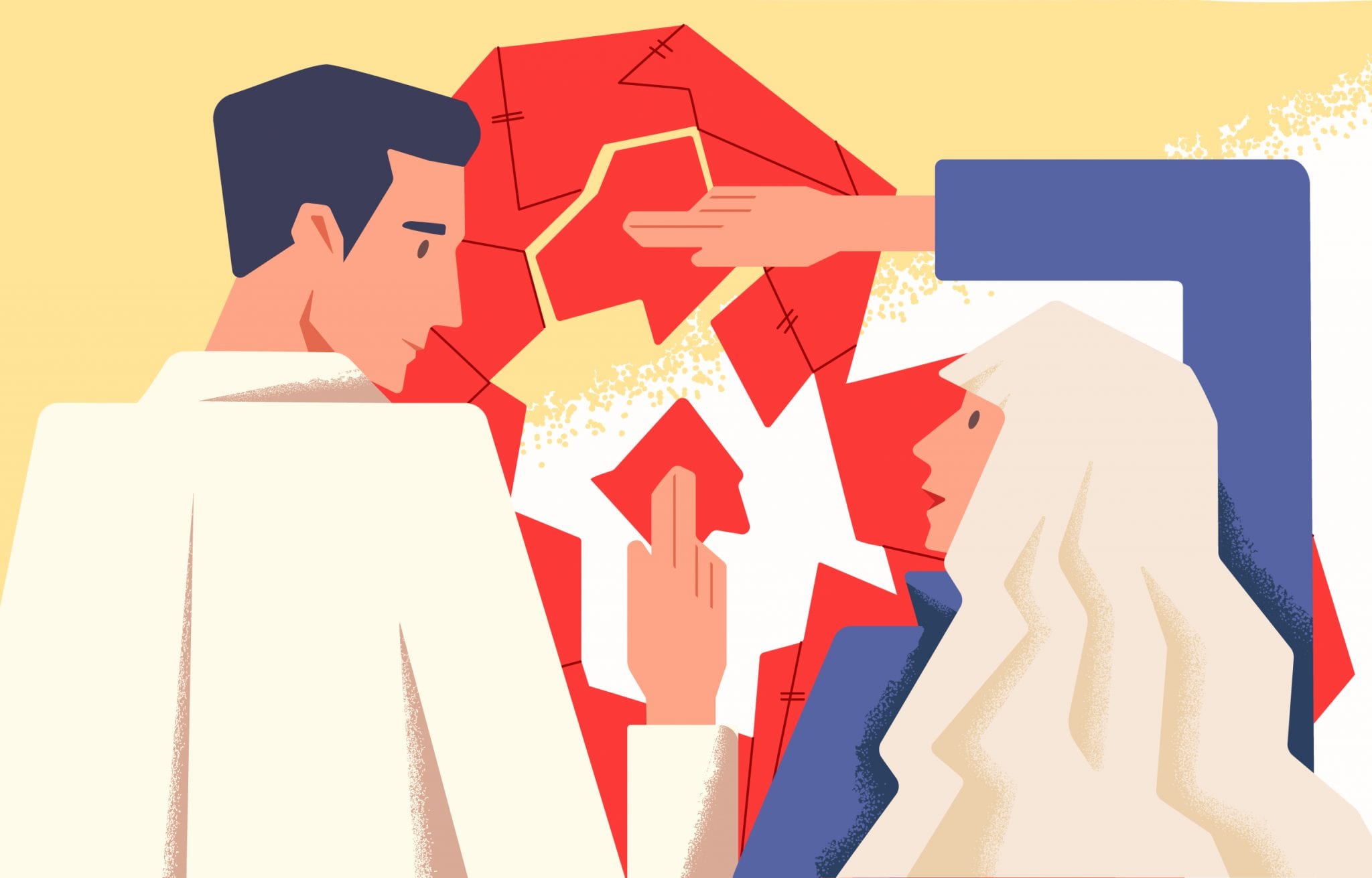 At Never the Right Word, our aim is to give you practical examples of how to handle life's difficult conversations. If you have an awkward situation that you'd like example templates for, request a topic here.   
If you're interested in further reading, we've also included links to our trusted resources and related posts below. To find out more about NTRW and our recommended tools, you can do that here.  
Lastly, if you found this content helpful or want to share your own examples, let us know in the comments. We'd also be delighted if you shared this article and joined us on social media too!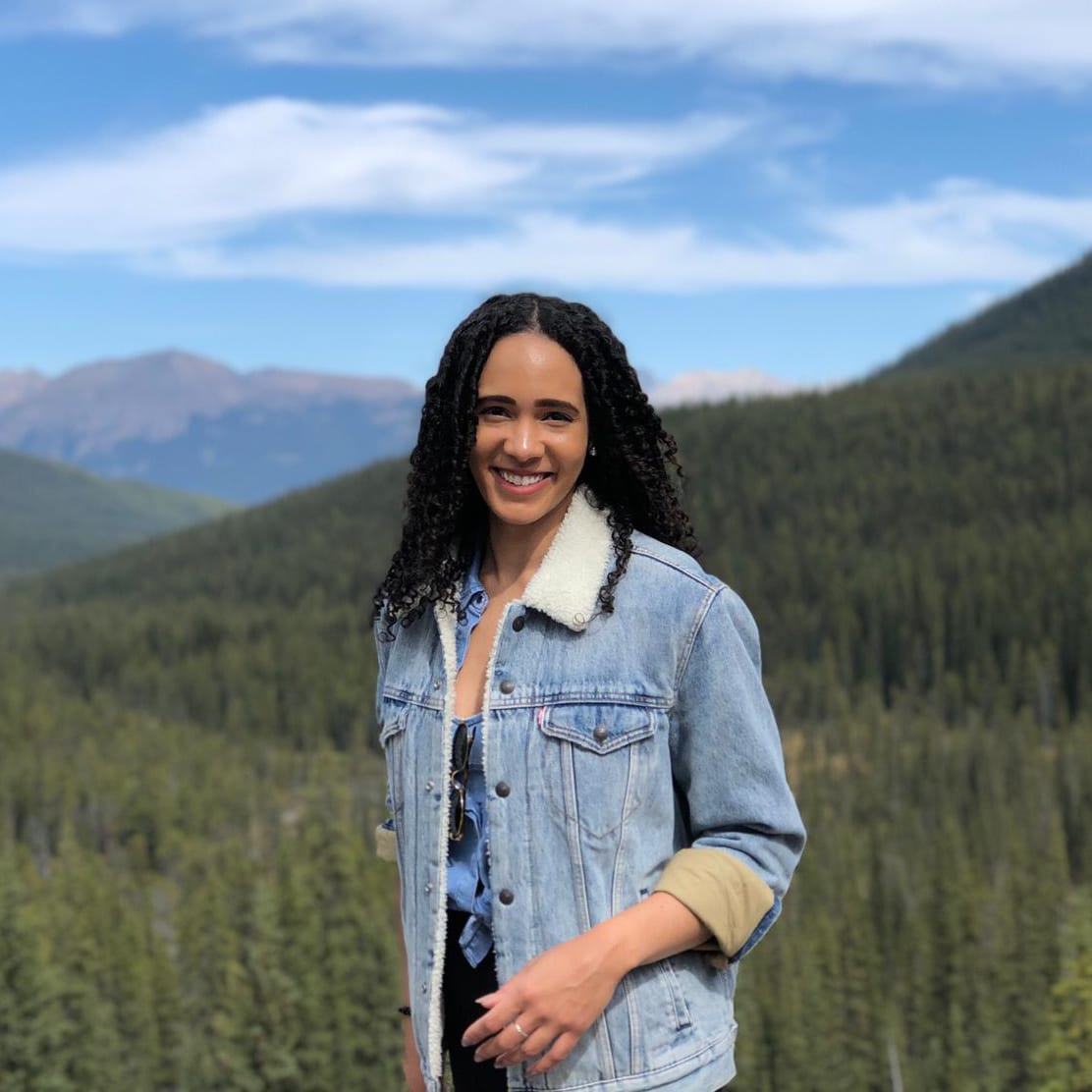 Never the Right Word
Hi there! I'm Amy, and I'm the person behind Never the Right Word. I'm a designer-by-day who's fascinated by human psychology; you'll find me learning about what makes others tick through all types of media and good old-fashioned conversation. Learn more about me here.
In 2019 Never the Right Word was born to fill the gap of 'how-to' websites with copy and paste examples showing you EXACTLY what you need to say to steer difficult conversations into positive outcomes.
Relevant Books We Recommend...
Pin Never the Right Word on Pinterest!
Check Out Our Recommended Resources.
Looking to become a digital publisher like us? We highly recommend these tried-and-tested tools:
Contact Us
Write to:
Never the Right Word
Building 19475
PO Box 6945
United Kingdom
Support NTRW
Donating to Never the Right Word will
help us produce more free content. Thank you!